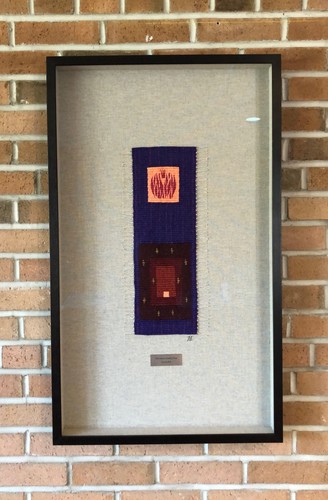 SUNDAY, OCTOBER 17
"OPEN HOUSE CHICAGO"
– the annual, free public festival hosted by CAC (Chicago Architecture Center).
You are welcome to join me at the beautiful West Suburban Temple Har Zion in River Forest where I will give a presentation (12:30 and 2:30) on my commissioned, ten-tapestries series "Mount Sinai on Route 45."
Completed in 1953 to designs by the prominent Chicago architecture firm of Loebl Schlossman and Bennett, this Modernist temple is home to truly unique works of art. Most prominent of these are a set of five two-story stained-glass windows in the Gottlieb Community Hall designed in 1967 by artist, cartoonist, and illustrator
William Gropper

.
The windows render scenes from
Genesis
in colorful faceted glass. The very unusual moving bima, or altar, enables the facility to shift from intimate services to a giant hall capable of holding hundreds. The exterior features a remarkable sculpture created by
Milton Horn
in 1951—possibly the first figurative sculpture installed on a synagogue in over 2,000 years.
12 p.m. - Gropper Windows tour and lecture with Marc Stopeck, "Shrubtown" cartoonist for Oak Park's Wednesday Journal and member.
12:30 p.m. - Hear from the artist Berit Engen about the newest addition to the Temple's art collection, her series of ten tapestries "

Mount Sinai on Route 43

," that tell the story of receiving and accepting the covenant.
1 p.m. - Building and Temple history with member Leonard Grossman.
1:15 - p.m. - Lecture on the Milton Horn sculptures in the Temple with member Michael Zmora.
2 p.m. - Gropper Windows
2:30 p.m. - "Mount Sinai on Route 43"
3 p.m. - Temple and arts history
3:15 p.m. - Milton Horn sculptures
4:00 p.m. - Gropper Windows