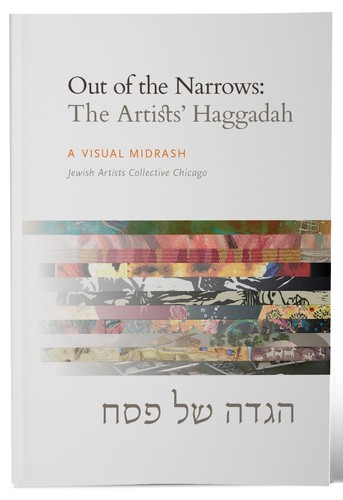 A Jewish Artists Collective Chicago (JACC) Publication:
Out of the Narrows: The Artists' Haggadah

Edited by:
Susan Dickman
Berit Engen
Carol Neiger

Featuring artwork by all eleven members of the Jewish Artists' Collective Chicago (JACC)
Out of the Narrows: The Artists Haggadah
was created during the modern plague of our time, Covid-19, which necessitated celebrating a socially distanced Passover. We created a text rich in meaning and beauty, one that would engage visually and thematically and evoke in-depth discussions at next year's Seder.

Out of the Narrows

is a complete Passover Haggadah with the Passover Seder in Hebrew, transliteration, and English, including all steps of the ceremony, rituals, prayers, liturgy, and commentary. It is a Fine Arts book with art as commentary. It also reflects what JACC is about

–

a community of multidisciplinary Chicago artists connected through common heritage and committed to sharing ideas, enriching practices, and creating dialogue with community.
__________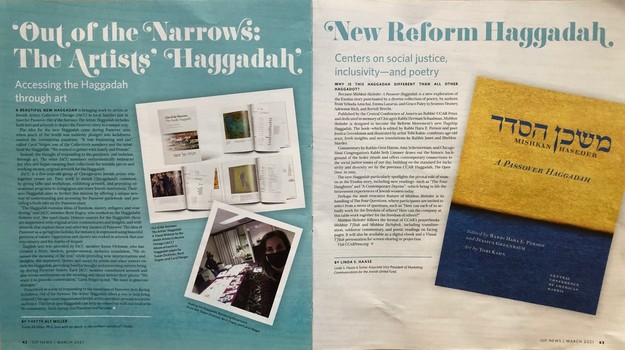 Raves and Reviews
Jewish Book Council
(review by Jonathan Fass):
"The Haggadah's lay­out is beau­ti­ful­ly craft­ed, as one might expect from a book designed by artists.

Out of the Nar­rows

is a visu­al feast, and is appro­pri­ate for adult audi­ences com­fort­able with draw­ing their own dis­cus­sion from the themes found in the Seder and the accom­pa­ny­ing art."
Times of Israel
(feature article by Shelley S. Hebert):
"If your image of what Passover may be like this year could use a lift, along with your spirits, a stunning new haggadah by a group of talented artists in Chicago could be just what you need.

Out of the Narrows: The Artists' Haggadah

is a beautifully conceived adaptation of the traditional Passover seder text, accompanied by original contemporary artwork linking the extraordinary times in which we find ourselves to the timeless Passover narrative."
JUF News
(feature article by Yvette Alt Miller):
"A beautiful new Haggadah is bringing work by artists at the Jewish Artists Collective Chicago (JACC) to local families just in time for Passover.
Out of the Narrows: The Artist's Haggadah
includes both text and artwork to depict the Passover story in a unique way."
__________